During a cloud ERP implementation, migrating data is a huge, sometimes complex, step. Acumatica's data migration plan makes it an organized and detailed process.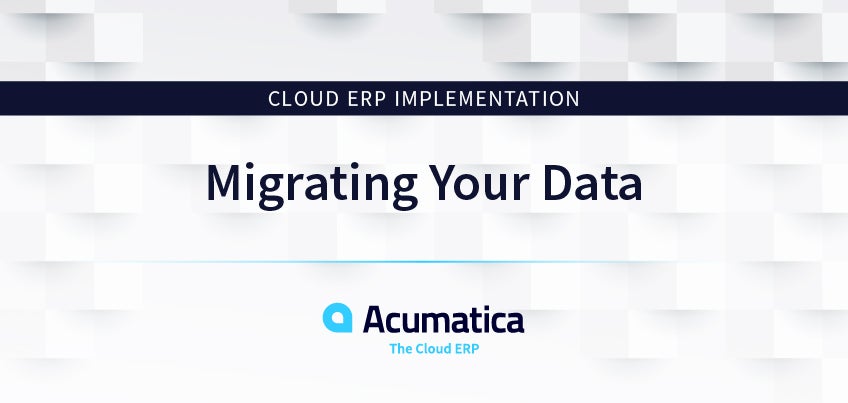 Cloud ERP implementation: Not easy but worth it
Anyone who has contemplated an ERP deployment, even superficially, has recognized that switching from legacy or multiple, disparate systems to a comprehensive cloud-based ERP solution is a complicated and extensive procedure. Starting with the initial actions of gaining leadership and IT buy-in followed closely by making your ERP selection (Acumatica, in this case), you're ready to take the first four official steps of Acumatica's eight-step ERP Playbook to Implementation success: choosing your deployment option (FYI: Acumatica provides ERP deployment flexibility); assembling an implementation team; defining your requirements; and developing a project plan.
Step five—migrating your data—is technically part of step four. However, because migrating your data in an orderly, defined way is essential to your success, it becomes its own step. To prove how important this step is, let's look at one Acumatica VAR's experience in migrating their data to Acumatica cloud ERP.
Dataquest assists companies with ERP implementations. Before assisting customers as an Acumatica partner, they decided to migrate their data from their separate CRM, ERP, and billing software applications to Acumatica's centralized, single-source-of-truth cloud ERP software.
In Drinking Our Own Champagne: Why Dataquest Migrated to Acumatica Cloud ERP, Arline Welty, Principal, Dataquest, writes, "We believe in the product, and we wanted to have the firsthand expertise of a migration from another system."
After the data migration, she writes, "This process wasn't just as easy as 'drinking our own champagne'. In a way, the process was more akin to choosing the vineyard site, planning out how to use the land to the best advantage of sun, wind, and rain, selecting which grapes to plant in which area of the field, and finally, getting the vines planted properly for many bountiful seasons to come!"
Though not easy, it was successful, and in the process, they learned that having a "well-defined and clearly prioritized plan was essential." Step four in Acumatica's eight steps to implementation success is exactly that. Our well-defined, clearly prioritized plan orders the data migration tasks in the following user-friendly checklist:
Ensure all existing customer contact information is accurate and up-to-date
Remove incorrect or redundant data (discontinued vendors, contacts no longer with the company)
Remove incorrect or out-of-date company data (old part numbers, discontinued products)
Set up your Acumatica database
Map your legacy ERP data to the new Acumatica database fields
Transfer the data to the new system
Test the new system to verify all legacy data has been moved and is accessible
Verify new data can be added to the system (new product information, inventory item location, new customer information)
(Note: Consult internal team members for their advice on the essential data elements to include from their respective departments, including finance, sales/marketing, warehouse, field services, and shipping/receiving.)
For Dataquest, the migration process and subsequent use of Acumatica as their comprehensive cloud-based ERP solution was the right move.
"We went from handling our billing through Acumatica to really managing our quoting, opportunities, communications, marketing and sales activities there. Having all the data in one place has been incredibly rewarding. We no longer have to sign into disparate systems to look up key information," Arline notes. "We are also excited about where we are heading with the product. Because it has so many built-in features, it's easy to incrementally add functionality."
Cloud ERP implementation: One step closer to success
Data migration is not fast or easy, but Acumatica and our Acumatica partners are committed to making it an easy-to-understand and organized process. We're also committed to making every step of our eight-step process equally successful, and Dataquest's experience is a perfect example.
"Cheers to Acumatica for helping us migrate our business to the Acumatica Cloud xRP Platform so quickly, and for building a tool that can scale for all different audiences," writes Arline. "We toast the experience!"
If you're interested in toasting your own cloud ERP implementation experience, then we hope you'll contact our team today. We'll be with you every step of the way.
Stay tuned for details on step six: Developing a test plan.